"Dainty Miss" Painter Unknown-7/18/19
Today has been a sad day for me as I had to put "Dainty Miss " down. The vet and vet assistant at Blue Grass Veterinary Hospital were so very compassionate and gentle with her and I. This is the cat who started "the group" of 13 with the eventual addition of 2 kittens who found their perfect home. Because of this, they did not have to live the feral life their mother and father were rescued from. I was able to deliver her litters when she came running to me for help. That is how she got to spend the rest of her life in our home. She is survived by 2 cats and 3 grand-cats, a mate, and I with a broken heart. I did what she would allow me to do, which was very little. She will be buried where she first posed when she showed up at our home with her very dainty meow.
---
"Diego (Kiki)" Rush 4/15/06-2/25/19
Diego was a Bengal and we loved him very much!! This was very unexpected. We thought he had a good 4-6 years more, at least. I HATE this happened to Diego so quickly. He didn't deserve this at all, but I hope (and I don't think) there was little to no pain. I don't know what happened, but the vet thinks it was neurological, maybe a stroke or a brain tumor. I'm thinking stroke since his eyes were dilated from the night before on, but I'm not a vet. I just know we love him very much and will miss him very much. I thought I heard his meow this morning (2/26/19) in the hallway when I was sleeping/waking up. I think it was just the repetitiveness of him doing that every morning and then, nothing :(. He was 1 in a million (or the only 1). We have many memories of him and will be forever grateful for his companionship. RIP Diego, Kiki!! We love you forever!!
---
"Pepper" Atchley 6/15/17-11/21/17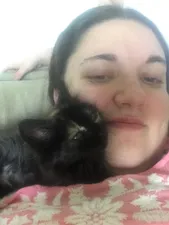 Pepper was a mama's girl, with a slight napoleon complex. She's deeply missed.
---

"Tillie" Schindler
7/3/2000-4/10/2017
We adopted Tillie from the Scott County Humane Society sixteen years ago. She had us enamored from the get go. She was a petite kitty with the softest fur. We can outlive many things but we can't outlive old age. Thank you to Dr. Werning and the entire staff for your excellent care, compassionate concern and many kind words of consolation.
---
"Peaches" Stickrod 2003-1/11/14
My name is Peaches and I died on January 11th, 2014. I want to tell you my story and how I was taken in by a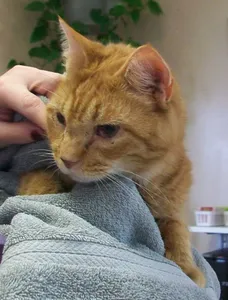 loving couple I called mom and dad. My mom saw me outside one day and gave me food to eat. She did this for about a month and waited for me to go back home, but I didn't have a home. So my mom decided to take me in and include me as a part of her family! Lucky me! I have a dog sister, Babygirl. We would run around the house chasing each other; my mom would yell at us and tell us to "settle down". I loved to play hide and seek from my mom whenever possible. She would get mad at me because she would call my name throughout the house, though I wouldn't make a sound, only to find me in the closet, basement, behind furniture, or by heating vents. She would always find me and say "what am I going to do with you" and then I would meow. I can tell you so many stories about all the things I would do to my mom and dad, but I knew I was loved very much. I would like to thank them for loving me and including me in their family. Thank you to all at Blue Grass Veterinary Hospital for helping me. I left my paw print in memory of myself so that my family will know I will always be with them!
Thank you, Peaches and Family.