Meet Dr. Joyce Werning
Dr. Werning was born in Milwaukee, WI and spent most of her childhood in Davenport, IA. When she was about 5 years old living in Wisconsin, she recalls her favorite cat, Sammy, and a funny story about cat food. "I would often sneak a few pieces of cat food out of Sammy's bowl and eat it as a snack. The punishment after being caught repeatedly doing this was that I had to eat a whole bowl of cat food for breakfast (it was a small bowl, but looked large to me at the time). Cat food didn't taste too bad when it was one kibble at a time, but a whole bowl is horrible!" One of her favorite memories of working with animals was when she was 12 years old. "A wild baby bunny was spared from a lawnmower and had a small cut near it's eye. My mom helped me call a wildlife expert to learn how to care for the bunny. I was told that wild rabbits don't often survive in captivity, but I was given instructions on how to care for it. I nursed the bunny back to health and after it was large enough to survive in the wild I released it near the bike path in Davenport." Dr. Werning had several pets growing up and volunteered at the Scott County Humane Society. She graduated from Davenport West High School in 1994 and went on to Iowa State University where she completed a Bachelor of Science degree in Animal Science. Dr. Werning received her Doctorate of Veterinary Medicine from Iowa State University in 2004.

After graduation, Dr. Werning moved to Blue Grass and worked as a small animal practitioner on the west side of Davenport. Towards the end of 2011, she took steps to start her own practice in Blue Grass where she could continue to provide excellent patient care and service to the community. "The best part of this career is the bonds made with clients and their pets," says Dr. Werning. To her, this is more than simply a career; it's an opportunity to change the world one small step at a time. She loves every aspect of veterinary medicine and can't imagine doing anything else. Her favorite cases include internal medicine, orthopedics, and soft tissue surgery.
In her spare time, Dr. Werning enjoys spending time with her family, especially her husband Jason, daughter Julia and son Jordan. Favorite family activities include camping, water-skiing, and horseback riding. Dr. Werning also enjoys reading, spending time with friends and taking care of the animals at her home. Her pets include Izzy and Jeffrey (cats), Cloie and Chase (paint horses), Chip-her newest horse, chickens, and several barn cats. She has two dogs: a Greyhound named Ruthie whom she adopted from Quad City Greyhound Adoption and a Puggle named Otto. Ruthie and Otto enjoy traveling from home to work with Dr. Werning and spending most of their days at Blue Grass Veterinary Hospital so you'll probably see them there sleeping!
Meet Dr. Emily Jones Guy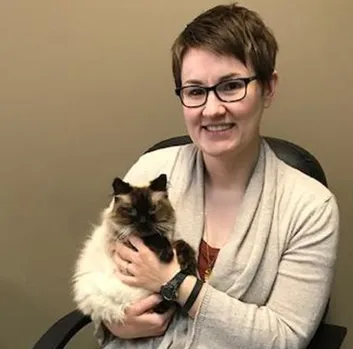 Dr. Jones Guy is originally from Nevada, Iowa. After studying German and Accounting at Iowa State, she worked as an accountant and spent much of her free time outside of work rescuing and fostering Pugs. As her involvement in Pug rescue grew, her interest in veterinary medicine was piqued and she decided to make a change in her career path to something she ultimately found more rewarding. She went back to Iowa State for animal science and graduated from Iowa State's College of Veterinary Medicine.
Dr. Jones Guy started her veterinary career as a mixed animal veterinarian in southwest Iowa before joining Blue Grass Veterinary Hospital as a small animal exclusive veterinarian in a move to be closer to her husband's family. She is a member of the Iowa Veterinary Medical Association (IVMA) and the American Veterinary Medical Association (AVMA). Her special interests include preventive care, dentistry and internal medicine. When she's not taking care of patients, Dr. Jones Guy enjoys spending time with her husband, Matthew, and her sons, George and Frederick, as well as their Corgi-mix Luke, and 3 cats.
Relief Veterinarian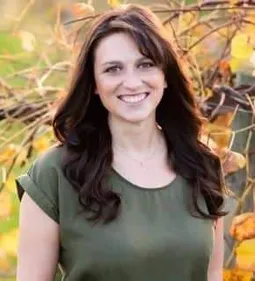 Dr. Amie Roberts started her medicine career as a receptionist at an emergency vet clinic, continuing as a veterinary assistant throughout her education. Her doctorate was earned at Iowa State University. She has over a decade of experience, the majority being in emergency medicine. Dr. Roberts is excited to be back at Blue Grass Veterinary Hospital with her clients, patients, and work mates. Outside of work, she and her family enjoy traveling, hiking and biking in Iowa's famous RAGBRAI. Outside of her work at the hospitals, she is active in the state Veterinary Medicine Association.
Hospital Manager
Hi! I'm Annie and I'm considered the "cat-lady" of the clinic although NOT a crazy one :) I blame my mom for transferring her love of animals to me. I snuck my first rescue kitten into a hotel in Chicago when I was about 10 years old so I could bottle feed her every few hours. I covered her shoe box with a blanket and no one ever knew. Growing up in the country, stray cats were a regular occurrence. If they would let me touch them, they didn't stay stray kitties for long (side note-bacon bits and butter are great tools for taming, but don't tell the doctors I said that .) The worst part about leaving home for college was leaving my kitties behind. Stuffed animals are NOT the same thing!
So, it's no surprise that I ended up in a veterinary hospital. From their cute little noses to their tails, animals bring so much joy into our lives. Who can resist floppy dog ears or a puffed-up kitten? They inspire me with their ability to love and trust unconditionally-even in some of the worst possible circumstances. Working at Blue Grass Veterinary Hospital gives me a chance to give back in whatever way I can to help animals in need. I love being able to promote year-long wellness and regular preventative care to keep pets healthy and happy.
Veterinary Technicians
Hi-I'm Amanda! I was ten when my life truly started. I arrived home from a friend's house one weekend to find a tiny, white fluff ball in my room. That little fluff ball was my very first dog and I named her Emma. Emma was an American Eskimo and throughout our lives together, she was my main frustration, yet my best friend. I received Emma as a present like every other child, however, our plans were different than most. Emma and I began obedience and agility training at a young age. We traveled around the Midwest to various agility shows and won a first place ribbon at our very first show. Due to behavioral issues, we had to retire early, but she has quite the collection of ribbons and received many titles.
Emma opened my eyes to how much an animal can change your life with their unconditional love. I had a difficult time continuing in the training world without her, but made sure I was constantly surrounded by animals. I have worked at several boarding facilities and doggie daycares, where I devoted most of my time. At the age of 16, I was teaching beginner, intermediate, and advanced obedience classes at Contented Canines and continued with them for four years. Through Contented Canines, I have also worked with various behavioral cases. My mother and I have rescued various behavioral cases, including people-aggressive, dog-aggressive, food-aggressive, anxious, or generally possessive dogs. We love that we are able to give these dogs a chance that most people are not able to take on. Every pet my parents or I currently own became part of the Bennett family because of challenging behaviors. I currently own a big brown mutt named Jojo, an Australian Cattle Dog named Kora (aka Boo Monster), and a gray fluffy cat named Taz (Tasmanian Devil).
When I was 21, I was not sure where I was going in life and had only worked with animals since I was 14. I attempted to branch out and worked in customer service at a basement waterproofing for two years. That was the experience I needed to confirm my passion for animals. I love change and needed something new while continuing with animals. That's when I looked towards the veterinary field. I started at Blue Grass Veterinary Hospital in September of 2014 as a receptionist. I immediately wanted to learn more and started at Penn Foster College in November of 2015 with the plan of becoming a Registered Veterinary Technician. I am currently in my fourth year and look forward to graduating soon.
**Update! As of fall, 2020, Amanda has completed all requirements by the state of Iowa and is officially a Registered Veterinary Technician!! Congratulations Amanda!
Hi, I'm Christina! I was born and raised in Davenport. I have always had a love for animals-especially cats. I graduated from the Muscatine Community College Vet Tech program in 2017. When I'm not working, I am busy with my three kids and husband. I love being at home with family, camping, fishing, and hiking. I have four cats, one dog, and 2 turtles!
Certified Veterinary Assistant

Hello! My name is Emily. I have always had an interest in spending time with animals. After a few years of working in another field, and volunteering at a local animal shelter I was able to join the Blue Grass Veterinary Hospital family. I am so happy I got this opportunity!
When I was little I wanted a dog so badly. My dad told me I could get a dog when we had a fenced in yard. When we moved to Blue Grass, our yard was fenced in, and as a child I remembered my dad's promise to me. I remember going to the Humane Society and finding the puppy who was sound asleep laying upside down, and I fell in love. My parents told me that we needed to think about it before adopting, so we went home. A few days later I came home from school, and there was my puppy. I named her Casey.
Although Casey was not a bully breed at all, I have since found that I have a very special place in my heart for the bullies. My husband had never had a dog, and had a dream of owning a Bulldog. I reluctantly agreed. This compromise was named Zoey. She went as many places with us as she could; in many ways she was our child. Zoey taught me a lot in her short lifetime – grieving a loss, enjoying the occasional puddle on a walk, and you are never too old for a nap. At times, she knew me better than any person could. Sadly, she became diagnosed with cancer and our time together was short-lived. She told me it was time when I could not make the decision. Saying good-bye was hard. I hope I am able to use this experience to help comfort others going through similar heartbreaks.
A few months after the loss of Zoey we were on a family vacation, I came across a posting for a puppy that was at a shelter on the way home. Of course we stopped "just to look" and left an hour and a half later with Bunky (pictured). Although we were uncertain that we ready to open our hearts again, we are so glad we did.
I am so fortunate to be able to spend my days helping your pets any way that I can. It amazes me the trust, and unconditional love that pets share with us. We are so blessed to have them in our lives.
***As of 9/15/22, Emily has successfully completed the required coursework to become a certified Veterinary Assistant! Congratulations Emily!!
Veterinary Assistant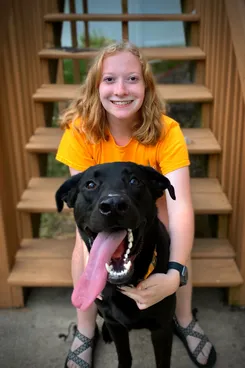 Hi I'm Aliza! I was born, raised, and am currently living in Davenport.
I have wanted to work with animals my entire life as they are my favorite things in the entire world. I had two dogs growing up, and now have my very own, Bear. My love for animals has continued to grow as I've gotten older and I have recently realized that I wanted to have a career involving them.
I am currently working towards my Veterinary Technology Certification with Penn Foster College. I thought my career path was set in the Law field, but I decided that the Veterinary field was more rewarding. I'm interested to see where my future takes me, but I know that Blue Grass Veterinary Hospital is going to help me achieve my goals!
Hi, I'm Sara! I grew up in Muscatine but moved to Davenport at the age of 21. Cats have always been my favorite animals growing up as that was the only pet my parents would allow us to have, besides fish and the occasional hamster. I would have a tendency to bring home every stray cat I found in the streets and hide them from my mom, but it never worked. She would find out and had to tell me to quit bringing home stray cats because we couldn't afford to keep them all.
Up until about four years ago, my husband and I were never dog owners. When we decided to take that step in our lives, of course we had to pick the most difficult and stubborn breed ever: a Siberian Husky. We got Magnus four
years ago. He has been a challenge, but we wouldn't change any of it for the world!
I've always told myself that if I ever won the lottery, I'd open up a shelter for all animals in need of a home. I'm hoping someday it will happen.
I am currently going to college to become a veterinary technician. I think what really got me into this career was when my cat had to be put down. She was very special to me. Her name was Zora, and I had received her from one of my customers that I saw on a regular basis at Subway. Zora was a barn cat and was the runt of the litter. She was very skittish but attached to me on day one. She was my best friend, was always there when I cried, when I was sick, while watching TV., etc.
When she was around 11 years old, she ended up getting very sick. She stopped eating, got super skinny, and couldn't walk anymore. It was this very clinic that we brought her to, and she got the best care that I could ever ask for. Since she was in too much pain, we decided it was best to put her down. The amount of care the doctor had for us and Zora was remarkable. She gave us as much time as we needed to say our goodbyes and made sure Zora was as comfortable as possible. After that day, I kept wondering that if I knew what was wrong with her, maybe I could have extended her life a little more. That was when I decided to become a veterinary technician.
I'm so excited to be a part of this amazing team!
Hello, my name is Karissa.
I am originally from the Chicago area and moved to Rock Island in 2017
where I graduated from high school. As a child, I was always surrounded by animals. I got my first dog at 5 years old, Snowball and she was my first ball of love. I sadly lost her in 2015, but she forever lives in my heart. I have always dreamed of having my own farm filled with horses, ducks, goats, and maybe a couple of cows. After high school, I got lost on my journey through my young life, very unsure of what I wanted to do with my future. Then I had my beautiful daughter Adaline, and it was in those moments when I first held her that I knew I wanted to be someone she would be proud of. She has helped me grow and discover passions of mine that I lost a very long time ago. My daughter and fiancé are the two most important people in my life, along with our dog, Shade and two cats, Anakin and Harlow. I have always been fond of Veterinary Medicine and when I saw Blue Grass Veterinary Hospital was hiring, I took a leap of faith with hopes of being able to learn and interact with animals as much as I can. I am so grateful to Blue Grass Vet for giving me the opportunity to join their wonderful team and for giving the best care to our four-legged friends. They are a wonderful establishment and very welcoming. I believe that with their help, I can go far, and open doors that I feared were shut on me for a long time.